New Publication Release: Riga Photography Biennial 2020
The latest addition at our little museum book shop is the Riga Photography Biennial 2020 publication. It includes information about the exhibitions, lectures and educational events happening as a part of the festival this year. In this publication you can also read about projects, in which Latvian Museum of Photography is taking part: exhibition "Wunderkammer",  "(In)visible Authors" Art interventions in public space, as well as introduction to the lecture by our museum's historian G. Švekina "Being a female photographer in the first half of 20th century Latvia".
The publication of the Riga Photography Biennial 2020 offers deeper insight into the Biennial's themes. Historian Kirill Kobrin contemplates on how we arrived at the boundless ocean of images not so long after having photogravure as a rarity in the cabinet of curiosities; media theoretician Kristin Klein traces the origins and development of the "post-digital"; art historian Alise Tīfentāle, by analyzing images on social networks, questions whether it is the right time for landscape photography; while historian Guna Ševkina and curator Šelda Puķīte introduce a lesser-known chapter of history of Latvian photography. The generously illustrated publication also provides more information abut the Biennial's exhibitions, events and artists.
Publication price: € 7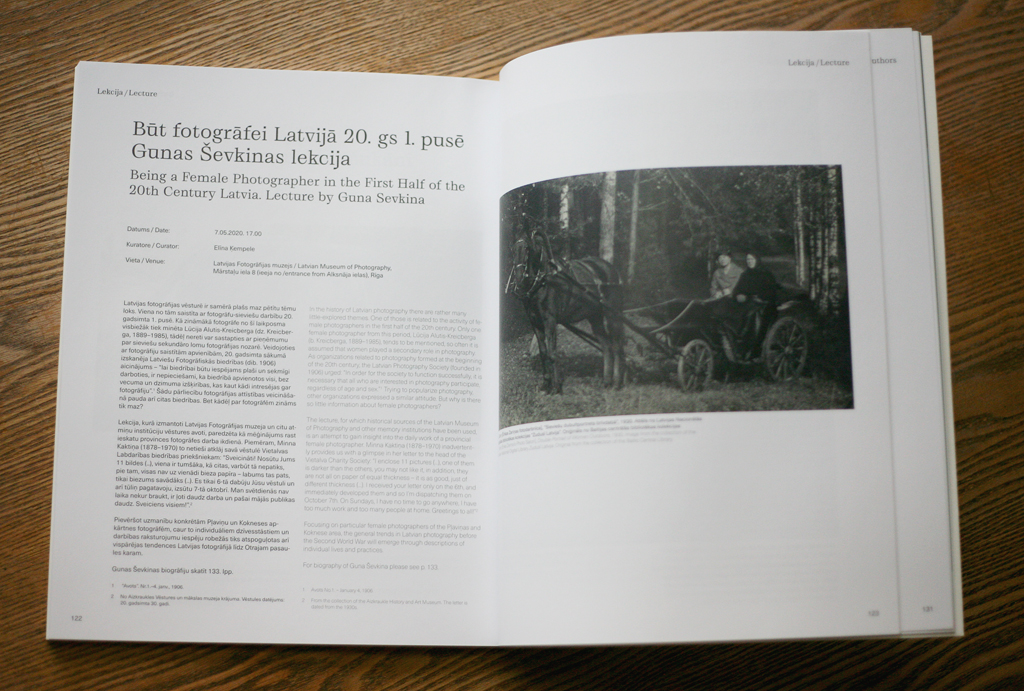 The Riga Photography Biennial (RPB) is an international contemporary art event, focusing on the analysis of visual culture and artistic representation. The term 'photography' in the title of the biennial is used as an all-embracing concept encompassing a mixed range of artistic image-making practices that have continued to transform the lexicon of contemporary art in the 21 st century.
Editor: Zane Zajančkauska (LV), Kolektīvs
Design: Ilze Kalnbērziņa Praz (LV), Kolektīvs
Texts by: Kristin Klein (DE), Alise Tīfentāle (LV), Kirill Kobrin (RU/LV), Aiga Dzalbe (LV), Šelda Puķīte (LV), Indrek Grigor (EE), Elīna Ķempele (LV), Adam Mazur (PL), Evita Goze (LV), Paulius Petraitis (LT), Guna Ševkina (LV) and artists.
Translations: Liene Linde (LV), Ieva Lešinska Geibere (LV), Jolanta Pētersone (LV), Sabīne Ozola (LV), Ingmāra Balode (LV), Melanie Zagrean (DE), Daria Pokholkova (RU) and Jamie Brown (US), D. Simanovsky's Literary Translation Workshop
Proofreading: Marc Gaber (US/LV), Ilze Jansone (LV)
Publisher: Rīgas Fotogrāfijas biennāle