Aki & Astrid Sinikoski "New Ghosts"
One of the three parts of the exhibition "In Between the Ends of the Rainbow" is a series of photographs "New Ghosts" created by Aki Sinikoski and his daughter Astrid.
"We do not believe in ghosts, nor in photographs. We believe in each other."
Aki-Pekka and Astrid Sinikoski's exhibition New Ghosts portrays the relationship between father and daughter and their attempts to understand life, change, and the passage of time.  The exhibition raises questions about identity, adulthood and childhood, life and death—what kind of role models, ideals, and future scenarios do we create for each other?
As kids our fears are often easy to name. We are afraid of monsters, ghosts or, for example, a tree's shadow reaching towards us behind the window. As we get older our fears often get more abstract. The new amorphous anxieties create new unnamed phantoms, a sort of "ghost"  we can't name yet. By photographing their ghost studies father and daughter have recognized that fears are often the mirror images of dreams. After familiarizing oneself with a ghost, one kind of tame the previously faceless creature, and turn it into a gateway to one's dreams.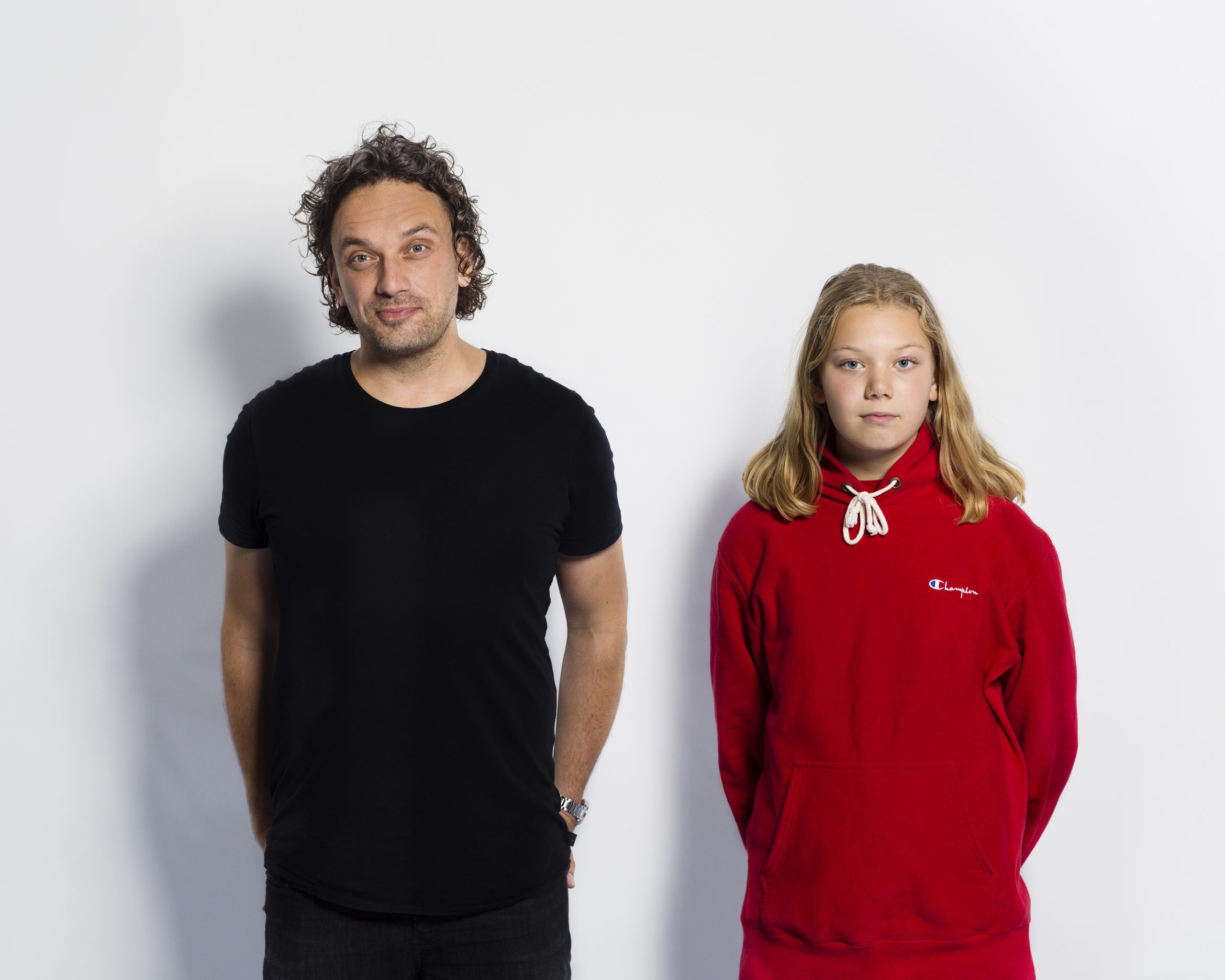 While researching the ghosts, father and daughter have spent long periods on the road together. On these trips, they have not only made new photos, but also organised dozens of performative exhibitions celebrating transience. What these short-term exhibitions had in common was, that they just popped up from nowhere without notice. Therefore the exhibition audience consisted of bypassers while all sorts of public spaces, like forests, ruins, and emptied swimming pools in the suburbs, were commissioned as galleries.
Aki-Pekka and Astrid Sinikoski's "ghost study" began in 2011. The series is scheduled to be completed in 2058, when Aki-Pekka turns 80 and Astrid 50. So far, New Ghosts has been exhibited on three continents. During autumn 2020 photographs from this series was exhibited among other places at the Photo Vogue Festival in Milan.
Aki-Pekka Sinikoski lives and works in Helsinki. As a portrait and documentary photographer, he is best known for his photo series Finnish Teens (2011) and Last Machos (2016). In his artistic processes, Sinikoski strives to capture the passing of time; as a result, projects are often lengthy and time-consuming. He is not looking for decisive moments but rather the stagnant feeling just after these moments. Sinikoski worked as the artistic director of the Helsinki Biennale from 2006 to 2009. In 2020, he made his debut as a children's author with his work Under månen (transl. Under the Moon, Schildts & Söderströms). This longingly comforting and philosophical book tells a story of a child's life after his mother's death. Sinikoski hopes the book will bring light and warmth to where it is needed most.
Astrid Sinikoski is a seventh-grade high school student. She plays basketball, loves animals, and enjoys drawing. She has a joint punk and techno band with her father, Raidalliset Lapset (Engl. Striped Children). Admittedly, the band has never released anything other than punk, as neither has yet learned to play techno.
The exhibition is kindly supported by the Arts Promotion Centre Finland, Finnfoto and Konstsamfundet.
www.sinikoski.com