12.06.2020 – 19.07.2020
On Thursday, June 18, at 6 p.m. Latvian Museum of Photography invites you to a virtual Artist talk and exhibition walk-through by Atis Ievins. Event language: Latvian.
The exhibition is part of Riga Photomonth 2020 programme.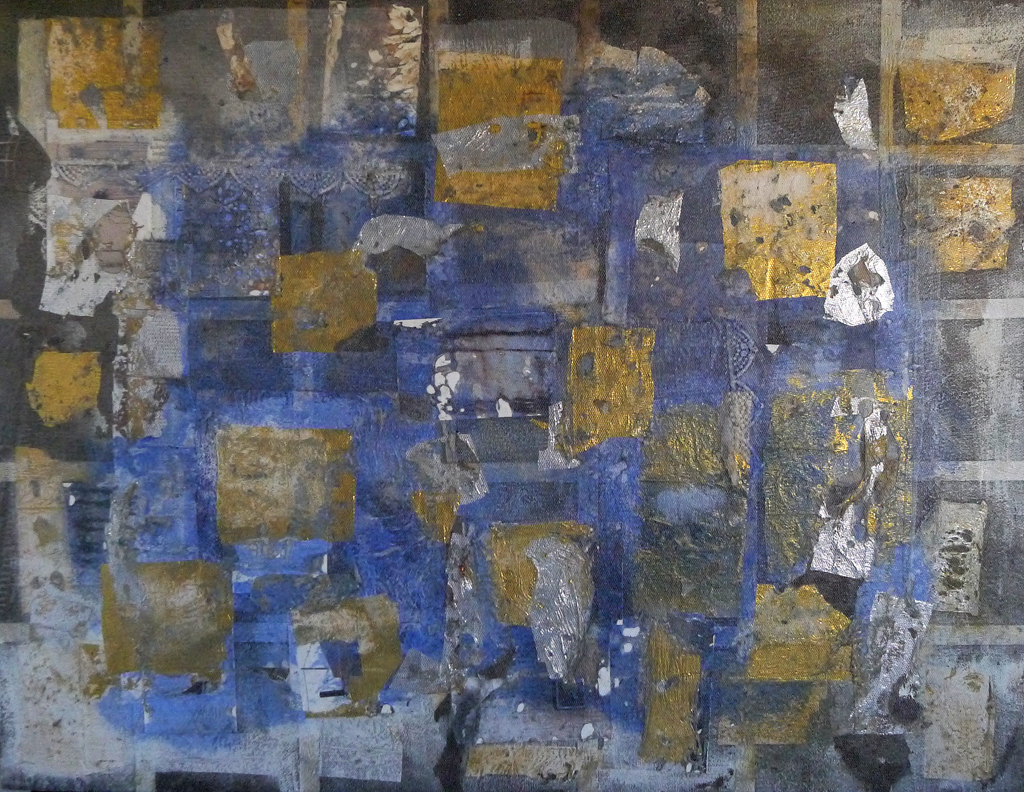 Born out of author's fascination with Ancient Egypt and conceptual artistic experiments, collages displayed in Pharaoh's Treasures are visual stories created by Atis Ievins. Ancient Egypt, its tonality, golden colours, sarcophagi, treasures, and constant discoveries have always fascinated the author. In his mind, associations with treasures of Egypt, which are still discovered in the crypts of the pyramids, their mystery and taste of antiquity, and fairy tales about Pharaohs, are intertwined. The author says he cannot write a good fairy tale, but he can create one and, with help of different techniques and painterly elements, he can realize one.
A. Ievins coins his work techniques himself; currently he works in installation and photo shinescreen. The technology of his works is highly experimental and based on years of experience testing plasticity, deformation, and compatibility of various materials. Layers of the collages are built up from photographs made by author in different time periods, glue, filler, cardboard, all types of aerosols, foil (heating blankets), synthetic mesh, acrylic colour and gauze. Etching and glossing are used, painterly textures are introduced and reliefs created through a slow, systematic experimentation process. Some works are even kept in the basement, where extreme temperature changes and humidity affect images.
Atis Ievins is an atypical Soviet-era photographer who graduated from the Textile Art department of the Academy of Arts but never become a textile artist. He was always more interested in experimenting and the discovery of new artistic ways, often combining photography and painting. The photographer's passion, especially in the second half of the 1960s and 1970s, was related to photo etching but in 70s and 80s, he turned his attention to then still little-known graphic technique – silkscreen printing, which he used in his photographic work. His colleague, artist Aldonis Klucis, who was well acquainted with the technology of screen-printing, played an important role in his learning process. Even now, he continues to corrupt photographs, as he laughs, the images used in Pharaoh's Treasures were found in his own archives.
Atis Ievins (1946) is a Latvian artist and photographer. Graduated from the Riga Secondary School of Applied Arts (Department of Decorative Design) in 1965, from 1969 to 1974 studied at the Department of Textile Art of the National Academy of Arts. Ievins started his career as a photographer in the army and later worked extensively as a photo reporter for magazines Pionieris, Padomju Latvijas Sieviete, Skola un Ģimene, Meža Dzīve and the newspaper Neatkarīgā Rīta Avīze. The most significant solo and group exhibitions have been at the Latvian National Museum of Art, Arsenal, Riga Art Space, Latvian National Theatre, Ojārs Vācietis Memorial Museum, Riga City Council, galleries Antonija, Birkenfelds (with Juris Zvirbulis), Garage (Moscow, Russia). Ievins participated in several international and domestic traveling exhibitions. His works are in collections at the Zimmerli Art Museum (Rutgers University, New Brunswick, USA), the Latvian Museum of Contemporary Art, the Latvian National Museum of Art, and the Latvian Museum of Photography.
Riga Photomonth is an international photography festival that takes place in the capital of Latvia since 2014. This year, the festival turns to the instinctive, natural and unknown, placing in the foreground the visual aesthetic of photographs and art and the artist's emotional world, which is particularly important to talk about in this period of crisis and uncertainty. Artists' works relate to concepts such as dreams, despair, stubborness, death, and forced idleness. In addition to exhibitions, artists participating in the festival are also developing performances in urban areas and live online broadcasts. The full festival programme available on their website.
We would like to express our special gratitude to State Culture Capital Foundation, Riga City Council, FK Magazine, and design artist Ieva Sture.