"Dream Is Wonderful, Yet Unclear"
Maria Kapajeva (Estonia/UK)
16.05. – 30.06.2019
The exhibition opening will take place on May 16, 2019 at 5 pm at the Latvian Museum of Photography, Marstalu Street 8 (entrance from Alksnaju Street).
Photographs will be taken at the event!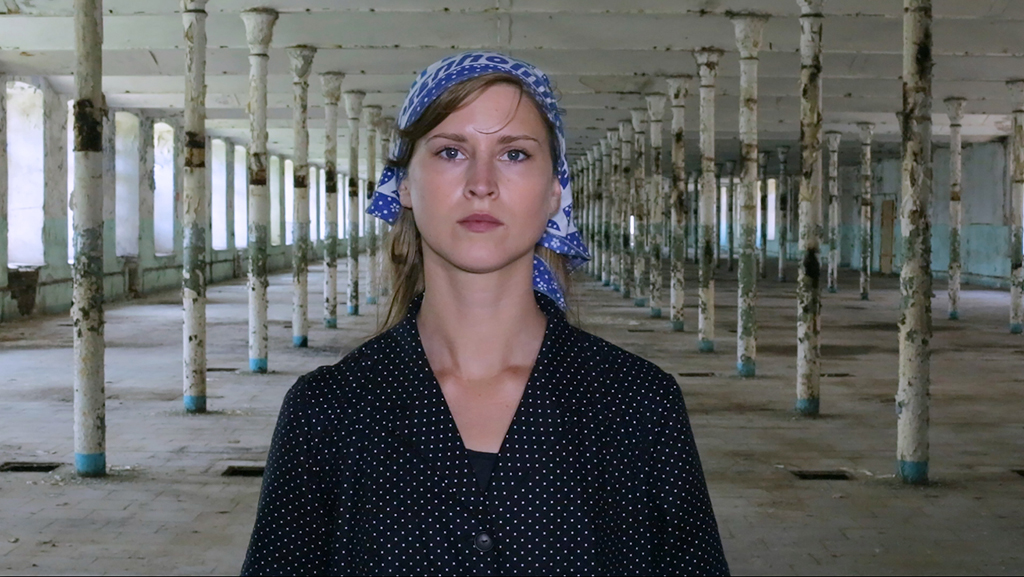 This exhibition explores the relationships between collective and personal memories by looking at the community surrounding a textile mill, now closed, of which the artist's family was a part. The story of one small community is set in the larger context of post-industrial cities worldwide, as they seek new identities. The exhibition depicts a mill filled by powerful rhythms of looms and lively collectives of women workers that, in today's competitive world seems like a bright and distant dream. Kapajeva focuses on women, with a heightened sensitivity towards social and political matters in post-Soviet culture. As the daughter of a textile designer, she spent her childhood at the mill, drawing fabric patterns and dreaming about the same job her mother had. In the exhibition, she interweaves her mother's work, her childhood dreams and their failures with the workers' collective ones to underline the division between personal and collective memories that together form our historical narratives.
The title of the exhibition is borrowed from the lyrics of March of Enthusiasts, from the Soviet movie The Bright Way (1940), starring Lubov Orlova in the role of a female weaver, who made her 'Cinderella' journey from peasant to Stakhanovite, a heroic worker. This line of the song was later censored because of doubt raised by the word 'unclear'. The idea of a wonderful dream is intended as a common thread throughout the exhibition but so too is the lack of clarity that characterizes our memories of the past.
Maria Kapajeva is an Estonian artist who lives and works in London, UK. Her multicultural background informs her practice of mining the diverse range of cultural identity and gender issues within historical and contemporary contexts. She works with stories and histories that grow out of vernacular photographs that she finds in archives, old family albums, on the internet or in flea markets. Kapajeva's most recent solo shows include: Test Shooting (CBS Digital Art Space, Denmark, 2019), Dream is Wonderful, Yet Unclear (Narva Art Residency, Estonia, 2017) and I just knew… She has been with me ever since (WOAK Gallery, Białystok Poland, 2017). Recent group shows include: RIBOCA Biennial (Latvia, 2018), Narratives alongside him (Kaunas Photography Gallery, Lithuania, 2018) and Field's ONE (Sluice Art HQ, UK, 2018). In 2018, Kapajeva won the Runner-Up Award at FOKUS Video Art Festival (Denmark) and her artist book You can call him another man was shortlisted for Aperture First Photobook Award. Kapajeva teaches at the University for the Creative Arts, Farnham, and is involved in the research project Fast Forward: Women in Photography.
Riga Photomonth is an international photography festival that takes place in the capital of Latvia since 2014. This year the festival's theme is Eating Pineapples on the Moon and the artists examine the legacy of various collective utopias within the discourse of post-democracy. Riga Photomonth will host 11 exhibitions and various events, such as talks, projections, film screenings, portfolio review etc. The full festival programme available on www.rigaphotomonth.com
On Saturday, May 18, at 6 p.m. Latvian Museum of Photography invites you to the Artist talk by Maria Kapajeva chaired by Assistant Professor Maria Gourieva (St.-Petersburg State Institute for Culture, Russia).
The exhibition is supported by Estonian Embassy in Riga
We would like to express our special gratitude to Signe Matteus (Deputy of Head of Mission at Estonian Embassy in Riga), Riga Photomonth team, State Culture Capital Foundation, Riga City Council, MagnumNT, FK Magazine, Narva Art Residency, The Cultural Endowment of Estonia and Pieci Ezeri design agency.